Three questions on France's trade and Euro
4 Juin 2014 Publié dans #ENGLISH VERSION
Eurostat has just published the foreign trade statistics of the European Union. After reading this blog, I suggest answer two simple questions and, finally, a little more complicated question.
Overall, the Euro area had a surplus to the rest of the world, a surplus of EUR 153.8 billion. This surplus consists of very different results based on the countries that have adopted the euro.
Remember first of all that, until 31 December 2013, the euro area included Belgium, Germany, Estonia, Ireland, Greece, Spain, France, Italy, Cyprus, Luxembourg, Malta, the Netherlands, Austria, Portugal, Slovenia, Slovakia and Finland. From 1 January 2014 the euro area also includes Latvia.
For reasons of data collection, these results relate only to the first 11 months of 2013, but this does not alter the lessons that one can learn.
In billions of Euros:
Germany 185.5
Netherlands 50.6
Ireland 34.6
Italy 26.8
Belgium 13.9
Slovakia 3.5
Slovenia 0.5 `
Estonia -1.3
Finland -1.6
Malta -1.7
Cyprus -3.0
Luxembourg -5.2
Austria -5.3
Portugal -8.4
Spain -14.4
Greece -17.9
France – 69.9
First of all, we cannot avoid noting the huge German trade surplus.
Then, notice there are six countries within the euro zone that have a surplus, mostly grouped geographically around Germany, except Italy which maintains, at the cost of growth, the competitiveness of its industry and Ireland which has brilliantly maintained its exceed commercial for the price of fiscal and social dumping. Notice some of the difficulties in Estonia, while Finland gradually restores its trade balance.
Look at the two islands, Malta and especially Cyprus, which have struggled to keep their balance.
Forget Luxembourg whose financial revenue outweighs the trade deficit.
See that Austria is not doing so well.
Encourage Portugal and Spain that are tightening their belts to keep their heads out of water.
Pity Greece that has no chance of escape.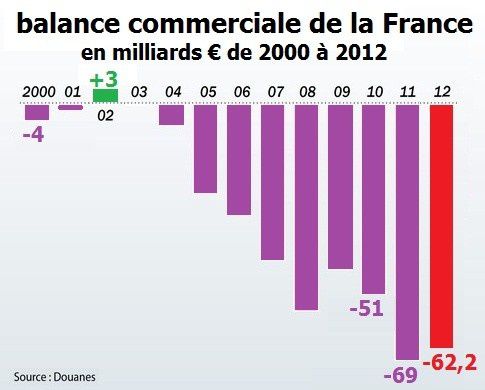 And now my question, when you notice that France is the country of the euro area which has the highest trade deficit, by far:
1 Do you believe that France has the opportunity or the means to restore its trade within the euro zone? If you answer "no" to this question, here is a second one:
2 Do you believe the surplus countries and banks will finance our deficit indefinitely??
If you answer "no" to the second question, here is an open question:
3 What is going to happen in your opinion???
If you do not want to answer this last question, I hope you are reasonably comfortable, your head buried in the sand.
Pour être informé des derniers articles, inscrivez vous :